It's not something any football fan wants to see, but the possibility exists that lots will have to be drawn this week to determine which teams progress from their respective World Cup groups.

Fortunately, the odds still favour the emergence of clear-cut winners, but things are so tight at the moment in groups C, D, F, G and H that a number of teams in each could yet finish level on points, goal difference and goals scored as well as head-to-head results. And that could mean a team qualifying or being eliminated on the luck of the draw.
The provision for a team to advance through drawing lots is tucked away in Article 39 of FIFA's
World Cup regulations. So far, it hasn't needed to be activated.

Replays and play-offs were used in the World Cup until 1958, since when all qualifying issues
have been settled by a hierarchy of six criteria, the last of which is the drawing of lots.

It would be a remarkable and controversial way to conclude the group phase. But the World Cup is actually no stranger to odd tie-breakers.

1990 - A tough lot for Netherlands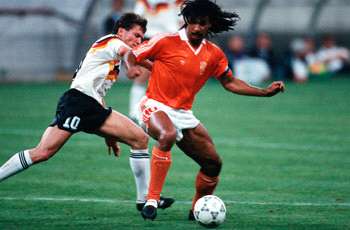 As recently as 1990, the drawing of lots was used, though to determine who would play whom
next, rather than who would be eliminated. Group F in that tournament was one of the tightest in World Cup history, with only one of the six games not ending all-square. The solitary decisive result was England's 1–0 victory over Egypt, which made them table-toppers; but behind them the Republic of Ireland and the Netherlands finished with identical records.

So for the first time lots were drawn to separate them, because the four third-placed teams with the best records would progress to the second round.

Ireland won the drawing of lots and advanced to play Romania; the Dutch were awarded third place and so had to play eventual winners West Germany in the next round. Although they weren't eliminated directly by the draw, they certainly got the tougher fixture.

1994 - Norway lose out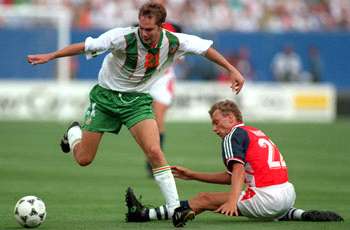 Four years later in the USA, Group E produced the only group in World Cup history in which all
four teams finished on the same number of points.

The four teams - Mexico, the Republic of Ireland, Italy and Norway - were all level going into the group's last two fixtures, so two draws would ensure they remained that way. Ireland and Norway played out a goalless stalemate, while Italy and Mexico held each other to a 1-1 draw.

That result meant Mexico won the group on goals scored with Ireland and Italy also progressing, having finished with identical records (but Ireland finished second having beaten Italy when the teams played one another). Norway were eliminated because they'd scored the fewest goals.

1958 - Wales make the most of their opportunity


LUCKY DIP | Tie-breakers


1. Total number of points

2. Goal difference in all group matches

3. Goals scored in all group matches

4. Head-to-head results of tied teams

5. Goals scored in matches between tied teams

6. Drawing of lots

Unorthodox methods have also been used to decide who actually qualified for previous finals. In 1958, Wales had finished second behind Czechoslovakia in qualifying, but got a reprieve when they won a ballot among second-placed teams to find a play-off opponent for Israel in the Asia/Afica region.

For reasons that had nothing to do with football, Turkey, Indonesia and Sudan all withdrew rather than face the politically ostracised Israelis. A play-off was therefore required because FIFA had imposed a rule that no team could qualify without playing at least one match. This was itself a response to the fact that several teams had qualified for previous World Cups without actually competing because of the withdrawals of their opponents.

Wales won the ballot of the runners-up, and duly beat Israel home and away in the play-off to take their place in Sweden, where they were narrowly beaten 1-0 by eventual winners Brazil in the quarter-finals.

1950 - Uruguay need only four games to win the Cup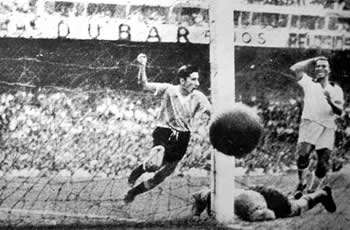 The problem of withdrawals from earlier tournaments was highlighted in 1950, when India, Scotland and Turkey withdrew after qualifying and were not replaced. That meant only 13 teams, none of them Asian and six of them European, played in the finals in Brazil.

And it also meant that Group 4 comprised just two teams. Uruguay thrashed Bolivia 8-0 in the solitary goup match, progressed to the final pool, beat the hosts in what proved to be the deciding match of the pool (as distinct from a World Cup final as such) and duly lifted the trophy for the second time.

In the event...

Happily, modern World Cups are less random and chaotic. But we could yet be witnessing the age-old practice of drawing of lots in June 2010. If needed, any such draw would take place at Soccer City at 18:00 BST after the last group matches which kick-off at 15:00, and at 22:30 for the games starting at 19:30. The draw would be conducted by a member of the World Cup Organising Committee.