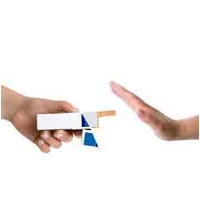 Ilustrasi (Foto: completewellbein)
Koln,
Orang yang stres berat identik dengan merokok sebagai pelarian untuk melepas stres. Tapi ternyata tak selamanya demikian, makin tinggi stres makin menurun ketergantungan terhadap nikotin.
Dilansir dari
ScienceDaily
, Selasa (13/4/2010), penelitian yang dilakukan ilmuwan Jerman, Anna Schmidt dari University of Cologne menemukan tingkat stres yang tinggi di tempat kerja justru mengurangi ketergantungan pada rokok.
Ia mengamati 197 karyawan perokok untuk melihat hubungan faktor stress di tempat kerja dengan tingkat ketergantungan nikotin.
Perilaku merokok para karyawan diamati dengan
Fargestrom Test of Nicotine Dependence
, sebuah metode uji untuk mengukur tingkat ketergantungan nikotin yang telah diakui dan divalidasi secara internasional.
Hasilnya mengejutkan, hubungan yang semula diperkirakan berbanding lurus ternyata berkebalikan. Pekerja dengan tingkat stres tinggi di tempat kerja justru lebih sedikit merokok dan memiliki tingkat ketergantungan terhadap nikotin yang lebih rendah.
Spekulasi penyebabnya menurut tim peneliti adalah jam kerja yang padat dan peraturan perusahaan yang ketat soal rokok. "Beban kerja yang tinggi menyebabkan pekerja hanya bisa merokok pada waktu luang saja," ungkap Schmidt.
Lebih lanjut, penelitian yang dipublikasikan di jurnal
BioMed Central
itu juga membuktikan faktor lain yang berpengaruh terhadap ketergantungan nikotin. Faktor itu adalah sikap relijius, sudah menikah, dan tingkat pendidikan yang lebih tinggi.